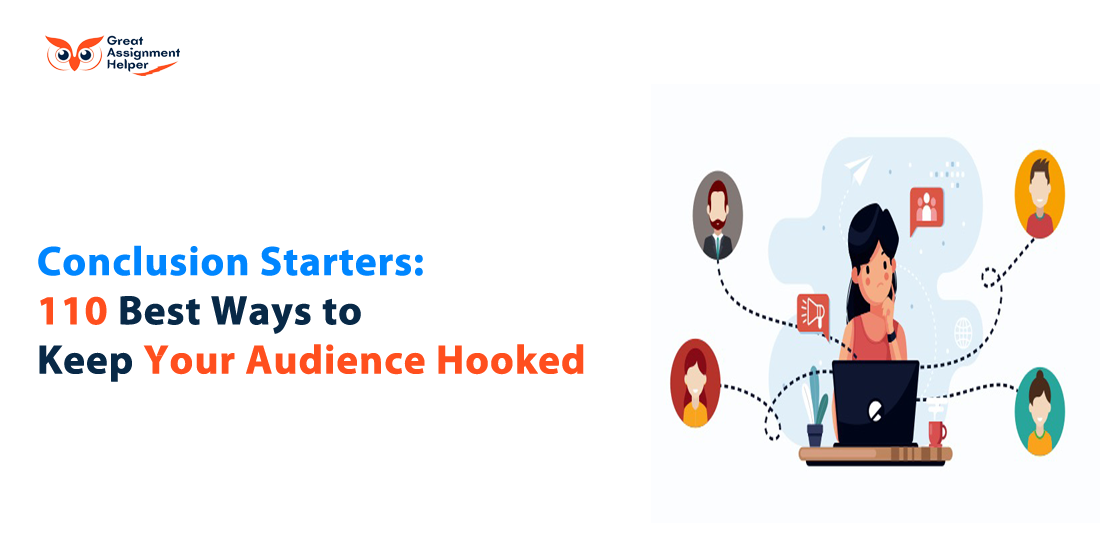 Conclusion Starters: 110 Best Ways to Keep Your Audience Hooked
Conclusion signifies the end of writing, be it paragraph or the whole document. The starting and the end are two major points of impact in academic writing. You can impress your reader with a good conclusion or annoy him by beating around the bush. If you understand the art of writing conclusions you may go on writing great pieces of academic papers and thesis which may attract appreciation from evaluators and readers.
Tips to write a good conclusion starter
If you want to write a good conclusion you must try to bring all the important points of the document in form of bulletins. If you think that the paragraphs resemble the copy of material written above you should try substituting different words in its place.
Below are a few points which you should remember:
Try taking reference of your introduction to match your conclusion with all of your document as it entails the basic idea of the document.

If you think that introduction is too large to be included as a base of conclusion, try taking points from important paragraphs of the document. For example if you are writing on terrorism then each section of your document may highlight a different problem or a different aspect of the same problem. The role of conclusion is to sum up all the major issues in a comprehensible manner, at one place.

You may also go on to include some influential quotes and suggestions as a part of your conclusion. This is one of the ways to impress your reader.
List of Words to make your conclusion effective
If you are struggling to write a good conclusion you may take a reference from below. Below is a list of few important words which may enhance the impact of your conclusion. Try using them as starters while writing your conclusion.
Lastly

Therefore

Hence

Finally

Thus

As expressed

In general

In conclusion

For this reason
Features of a good conclusion starter
Take a look at the following points to make your conclusion more impressive:
Take a note of all the points included in the body of the document as it greatly enhances the quality of the conclusion.

Always keep the main aim of your thesis as a guiding principle as a direction for writing your conclusion.

Make sure that all other portions of the documents are already prepared as conclusion concludes all the issues in discussion.
You must remember that different forms of conclusion require different structure of sentences. For example, sentence structure for an argumentative essay will be different from that of narrative one and that of narrative one will be different from a descriptive or an argumentative essay.
Conclusion starters in different forms of essay
If you are writing a narrative essay try giving moral lessons in your conclusion as it creates a positive impact on the reader.

If you are writing a descriptive essay , consider putting a brief conclusion at the end of every paragraph you write.

While writing a descriptive essay try stating supporting facts using different words. In this way there could be a connection between the introduction, body and conclusion of the essay.

If you are writing a contrasting essay try to give clear difference between two concepts present in the document and draw out a clear distinction between them.

Make sure to choose the right words to sum up your opinions in an argumentative essay. Try rephrasing the sentences if you think it does not convey the main theme of the document.
Points to pay attention
You must give a great deal of attention to your conclusion. If a conclusion is written properly it leaves an impact on the reader and allows the reader to retain better, what he has read. If you do not make your conclusions attractive the reader may feel disgusted after reading the document. Conclusion is therefore the most important aspect of any academic writing if you wish to leave an impact on your readers.
If you have no idea how to write a good conclusion just go on reading the blog and by the time you finish it you will have a good idea about the conclusion and different ways to write it.
Good Conclusion Starters
As the conclusion determines the level of interest that the user will have while reading what you have written you must pay a great deal of attention while writing one. The starting word of your conclusion must signify the end of the sentence. You may also review some examples before you start writing the conclusion.
Attributes of a Good Conclusion Starter
You must not forget that the main aim of a conclusion is to sum up all the arguments in a smooth manner and not abruptly. The conclusion starters are also known as traditional phrases and signifies that the document is about to end.
What you should remember?
Use a concise number of words as your essay or dissertation's conclusion begins.

Additionally, you can include a brief conclusion section to draw attention to the key ideas in your research.

Make sure to let the audience know when your work is about to come to a close.

Let the audience know that the closing section has no fresh information.

Make the readers anticipate that their job is about to come to a close.

Your conclusion should include a summary of the key themes and a message encouraging readers to take action.
Conclusion Starters Ideas
Don't rush here and there but focus on the list of suggestions given below:
Clearly

Given these points

All aspects considered

I think there is no option but to conclude

In drawing to the closure

Nevertheless

Overall

Now that we know

Ultimately

To sum up

As per my opinion

Generally

The apparent logical conclusion is

Keeping these in mind

When examining from the viewpoint of

Nothing else can be concluded but this.

When considering the issue of

After examining the situation from many perspectives, a conclusion can be drawn

It can therefore be restarted.

Taking into account the various information in this work
However, if you are working on a research paper, then consider the conclusion starters given below:
Conclusion Starters for Research Papers
A call to action statement for additional investigation on the issue is typically included in the conclusion starter of a research paper. Additionally, this section should have a formal tone because readers need more background information on the topic.
Some outstanding ideas
The outcomes show that, as anticipated

as a result of

Given what the data show

Considering the evidence provided

According to the data, it may be said

In light of these discoveries

Data indicate

The key revelations that the study made

based on the evidence, to infer

The findings of this study demonstrate

Unexpectedly, the information showed

The study's findings show that

While additional study is necessary

Reviewing these results, it is possible to state

As a result, in the end

Within the concept's context

While more study is necessary based on the data mentioned above

As the final result was destined to be.
Are the suggested conclusions still unsatisfactory to you? To locate more for a less formal paper, scroll down further.
Conclusion Starters for less formal papers
As I watch things

In the end, what has been said and done

When all is said and done

Briefly stated

According to my viewpoint

Nobody could've predicted that

Short version of a long story

When it's time to finish,

to get to the heart of the matter

In general

In layman's terms
For authors and public presenters to leave an impression on their audience, a strong conclusion is a crucial ability.
Use these introductions for conclusions to strengthen your essay because doing so will help you get better grades.
The right way to restate a thesis statement- Conclusion Starters
Restating a thesis statement entails summarising your entire argument in one sentence and then elaborating on it. Always be careful not to reiterate points; instead, rephrase your position using new language. After restating your thesis statement, you should also summarise your essay's main ideas.
Few Strategies
The following are some tips I've provided for you to use to forward your conclusion:
Then what? Find a response to this query because you need to attract your audience's attention.

You want to persuade the audience, thus establishing connections with a central theme of your course.

Utilising an outside source will add complexity to your claims.

Based on the findings in your study, pose a research topic.

Deal with your arguments' weaknesses so that you can strengthen them in your subsequent research.
Core factors to consider while writing conclusion starters
Applying a strategy alone is insufficient; you also need to be aware of the following additional requirements:
Write down the difficulties you encountered when writing your paper so you can avoid them in the future.
To ensure that your work is perfect, consider the tone of the paper. A good way to determine the fine tone of your article is to determine whether it is explanatory, argumentative, or analytical.
To tie your analysis to the original tone of your paper, find out what it was like.
Additionally, choose a technique that will allow you to incorporate all of your paper's components while maintaining the finest tone and flow possible.
Conclusion Starters for High School Students

One more thing,

I've therefore got to the conclusion.

the study found

As a result

To conclude

Following the conversation,

In the past

Going forward

You should now think about

The overall finding is that

For the reasons mentioned above

the vast bulk of the time

To achieve this

Finally, but not least

There is no doubt

I concur with

The moment has come to

According to my opinion

To examine

I believe you have realised it by now.

Altogether

As already stated
If you are not satisfied with these conclusion starters we have a few more for you.
Few Additional Conclusion Starters
I really believe that

I eagerly anticipate

The conclusion is that

It is important to review.

I sincerely believe that

Finally, I would like to

My conclusion is that

Meanwhile

rather than

Due to this, I believe

just as stated

In conclusion

On the other hand

In conclusion, it can be said

Henceforth

So it would be worthwhile.

Therefore, focus should be placed on

Indeed

Nevertheless

One can draw that
Final List of Conclusion Starter Ideas
In light of the above

As we come to a conclusion

Given this information

Keeping this all in mind

What else can we say other than this?

Taking into account these details

When the issue is raised

Upon applying a variety of techniques to this condition.

The apparent logical conclusion is

Results like these suggest.