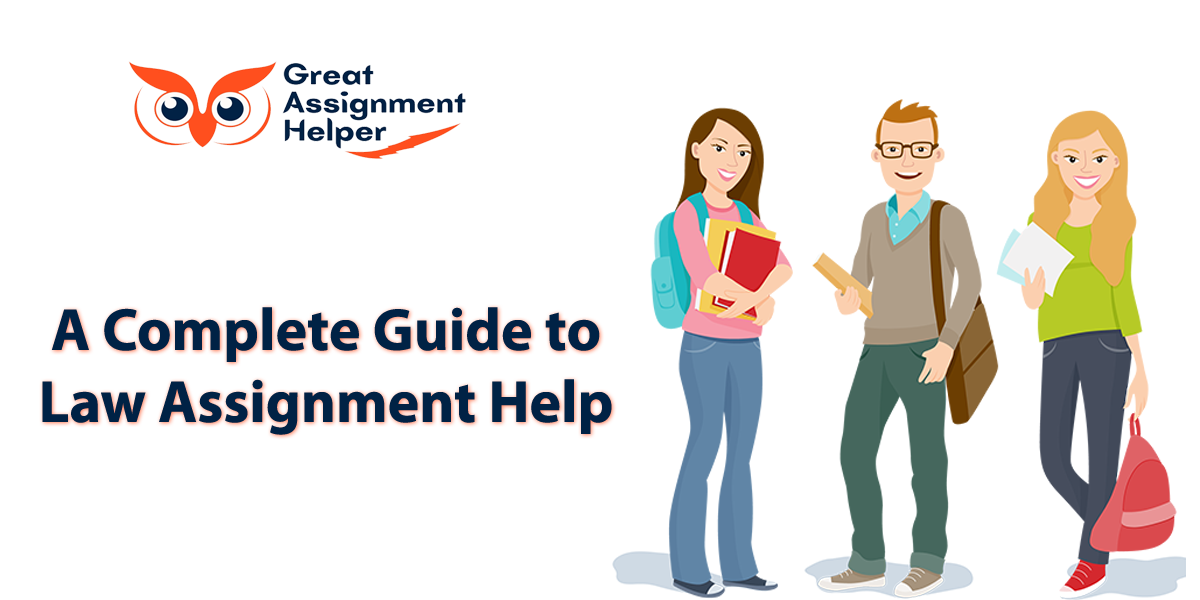 A Complete Guide to Law Assignment Help
Written communication skills form the most potent of weapons in a Lawyer or Law graduate's armoury and as such it is often the focus of the teaching faculty to aim for improvement of legal writing skills of students. Amongst all the subject and related assignments, law assignments are the most difficult to attain mastery over and for valid reasons as well. Each country has its own legal system, and the legal provisions are also diverse in different nations making law assignment writing all the trickier. The diverse legal systems across the world also result in variety of scholarly work on similar concepts but having different outcomes due to issues of difference in interpretation amongst different legal systems. As such, the students often require law assignment help, in order to ensure that their law assignment is up to the mark. www.greatassignmenthelper.com is proud to have the largest pool of expert legal writers having specific expertise in their domain in all the leading legal systems across the world and students can always avail help and guidance from our Australia Assignment Help Team. In course of this blog, we have tried to deal with the complex issue of law assignment writing to help our young student friends. An attempt has been made to address key points which should be considered by the students while writing law assignment.
Classification of Law Subject
The first step prior to undertaking law assignment writing would be to identify the law subject on which the assignment is to be written. Some examples of the same are Constitutional Law, Law of Torts, Civil Law, Criminal Law, International Law etc. While these are broad branches of Law, there are many sub categories of the aforementioned legal subjects. Civil Law, within its ambit carries Personal Law, Law of Contracts, Intellectual Property Rights, Corporation Law, Commercial Laws, Laws pertaining to trade and commerce, Laws pertaining to direct and indirect taxation. Similarly Criminal Law also has emerging crimes such as cyber-crimes, included within its ambit. International Law is extremely wide in its scope and apart from Laws of International Trade & Commerce, International Human Rights, Laws of Asylum and disputes between different nations are all subsets of International Law. Identification of the broader subject and the immediate subject which forms basis of the law assignment needs to be understood properly by the Law Student in order to start research.
Identification of the Legal System
There are different types of Legal Systems in vogue across the world and the student needs to identify the legal system which the assignment is supposed to subscribe to. While Some countries like the United States of America is known as a Civil Law system, commonwealth countries like Australia and Canada are popularly known as Common Law Countries. Common Law countries primarily have adversarial system of justice and the civil law systems have inquisitorial system of justice. However, students should exercise due caution as with evolution of legal systems, countries like Australia have incorporated certain features of inquisitorial system of justice into our Common Law setting.
Identification of the correct type of Law Assignment
There are challenges at each step in a Law Homework as there are different types of law assignment and writing style of each assignment differs completely from another type. Some examples of different types of law assignments have been discussed hereunder.
Law Essay- While such assignments are written in essay format, reference to relevant case laws, discussion of the legal provisions involved and reliance on scholarly articles pertaining to the underlying legal principles is a must and that complicates a law assignment essay from a generic essay in some other subject.

Case Study- As the title of the subheading suggests, it requires the student to undertake study of a popular or important case and provide in depth analysis of the same. Some assignments might even call for application of legal principles evolved out of a leading case into fictional facts of case provided by the faculty. The challenge involved in such type of assignment is that usually very difficult cases are given for students to work upon and with paucity of time, the law students often get flustered and overwhelmed at the thought of task at hand. We would like to tell such friends that Assignment Help Australia is here to take care of all your stress and difficult tasks.

Memo Style Assignment- At times the faculty asks students to step into the shoes of a lawyer and either provide legal advice to a client or they may even ask the student to write a legal notice to be served upon the opposite party. While such tasks are integral to growth of a law student, at times, expectations of faculty become unreasonable as expecting finesse of language which a seasoned legal draftsman has, from students is definitely unreasonable. Fret not dear friends, www.greatassignmenthelper.com has not only legal scholars but even legal draftsmen in their Assignment Help Australia team and as such we can provide a perfectly drafted and well-seasoned memo style assignment to the students to work upon and get over all their anxiety.

Practical Law Assignment- Sometimes the faculty provide students with application based assignments wherein fictional set of facts are given to a student and the student is expected to undertake serious research on the applicable legal principles, leading case laws and scholarly articles on the subject before writing the assignment. Students must be careful as quite often there are a number of leading cases on a particular issue and it is necessary for the student to have found the judgement which is squarely applicable to the facts of the case. Such assignments are quite tricky and need in depth research on part of the students.
Challenges faced by Students & How to Overcome them
The students face a number of challenges while writing their law assignments as unlike other subjects, law assignment needs not only precise information but at the same time a lot of time has to be given in order to interpret and apply the legal provisions correctly. The first and foremost challenge that the students face is lack of in depth knowledge about the vast subjects of Law. Second challenge faced by the students is lack of time as law research is an extremely time consuming exercise unless you are actually aware of exactly where to look for. Third handicap that most students face is lack of understanding of proper legal language which only comes with time and as such the aforementioned issues act as challenge in the path of a good and successful law assignment.
The tips shared hereinabove have been specially shared to benefit our young students in Australia as well as elsewhere. However, we understand that it is not an easy task and as such the students can take help and guidance from Online Assignment Help at Great Assignment Helper as our law assignment and homework experts are domain experts in legal subjects and carry master and doctorate degrees. We also have expert legal draftsmen and our experts are well versed with all the relevant legal topics on which the Law Faculties usually give assignments and our vast library of legal resources keeps us prepared for any new topic which might arise in future, we always make sure that our law assignments are of the highest quality.