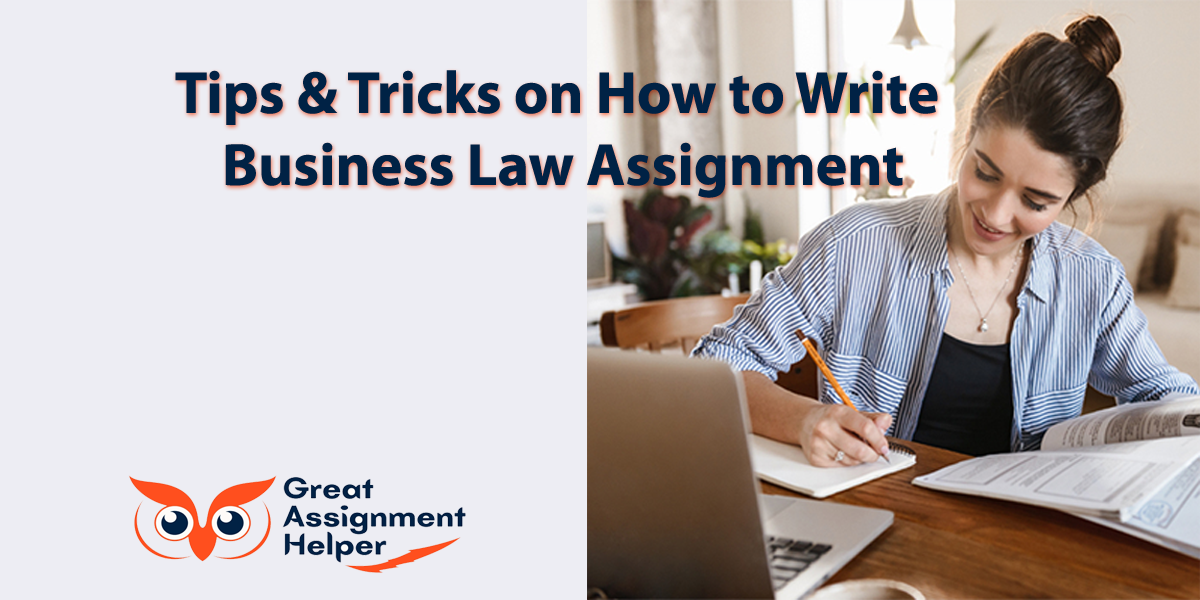 Tips & Tricks on How to Write Business Law Assignment
As is well known, writing a law assignment is a rather complicated thing to do given the vast scope of Law as a subject and its diversity amongst various different legal systems. The stream of Law has a number of subjects under its ambit and one of the most important branches of Law is Business Law and it forms a rather important part of not only a law student but also for business management students. Writing a business law assignment also carries a lot of responsibility and we often find students confused as to how to approach the topic of business law assignment. While in this blog, we have made an attempt to provide some tips and tricks to get the job done in a better manner, however, in case, due to paucity of time, students face difficulty in getting things done on time, they can always avail our business law assignment help to sail through the task without any stress.
Subjects under the ambit of Business Law
While the stream of Business Law is quite wide, subjects of International Trade and commerce and Mercantile Law are studied independently. Business Law pertains to provisions of municipal laws pertaining to business activities and they have been discussed hereunder briefly.
Consumer & Competition Law- Consumer law seeks to protect and promote rights of consumers, who are the end users of any product or service to ensure that they are not duped by goods or service providers. Concepts such as fair-trading practices and unfairness in contracts are all studied under this branch of law. Faculties in Australia often provide business law assignment to students on topics such as unconscionable conduct and deceptive trade practices to the students and as such students should pay special attention to such topics.

Corporations Law or Company Law- As the name itself suggests, this branch of Business Law deals with provisions relating to setting up and operation of businesses in the form of corporations. Topics such as duties of directors and failure to perform their obligations honestly are often issues which are subjected to scrutiny by the faculty members to students. Different types of companies, modes of raising capital, prudent decision making of business sense are also noteworthy topics which must be paid attention to, by the students while preparing for a business law assignment. Whenever faced with doubts, students can always reach out for their business law homework to www.greatassignmenthelper.com.

Intellectual Property Rights- Intellectual Property Rights form a very crucial part of business law as in today's era wherein the market is full of homogenous goods and theft/copying technology has become extremely easy, it is very important to have strong Intellectual Property Rights regime. Various kinds of IPR are Patents, Copyright, Trademarks, geographical indications and industrial designs. It is pertinent to mention that IPR are emerging and highly relevant part of business laws and as such the students must pay proper attention to these topics while attempting business law assignment. The subject carries a lot of intricacies and is not always the easiest to comprehend and in case our young friends find getting a grasp over IPR difficult, all they need to do is to head over to our Australia Assignment Help section to get over all their law assignment jitters.

Environmental Laws- Environmental Laws have come up to be one of the most important part of business laws as over the last few decades, economies and countries woke up to the fact that owing to rapid technological advancements countries have been exploiting resources at an unprecedented rate, thereby causing serious pollution and endangering the entire planet in the process. Over the past few decades, efforts have been made to move towards sustainable development by moving towards renewable resources and to protect the environment. This subject is only going to gain further importance as we move forward and as such it is extremely important for the students also to pay attention to concepts of Environmental Laws.
Tips on how to approach a Business Law Assignment effectively
As discussed hereinabove, Business Laws are considered to be amongst the difficult branches of law as they deal with diverse and serious issues which affect the commonfolk as well as large conglomerates. Here are a few tips on how to approach such topics with relative ease.
Thorough examination of instructions & deadline- In order to write a business law assignment successfully, the first step would be to understand the instructions of the faculty properly. This would give students an idea of what the teacher expects from them. Reading the question a couple of times with emphasis on each sentence helps the students understand the topic properly and having regard to the deadlines helps the students to plan the assignment properly.
Planning the Business Law Assignment- Once student has understood the question, instructions and has a fair idea of deadline within which the assignment has to be submitted to the faculty, students must plan the business law assignment diligently so as to ensure that there is enough time for research, writing, proof-reading and formatting the assignment as per requirements prescribed by the faculty. If this looks intimidating, we wouldn't lie and say that it is very easy but experts like those at Assignment Help Australia at great assignment helpers manage this difficult task quite professionally and smoothly.
Analysing the Business Law Assignment Question
Analysing the question properly and understanding the scope of research is a vital foundation step upon which a successful business law assignment rests successfully. It is imperative that a lot of attention is given at this stage as questions are often designed to be tricky in order to test cognitive aptitude of the students properly.
Undertaking proper Research and accumulating requisite information'
Next step involves undertaking appropriate research to address the question effectively. It is important to understand that in case the question mandates research on a leading case law then the judgement must be searched and similarly if the question asks for application of legal principles, the leading secondary research materials and commentaries on the topic should be looked up.
Writing the Business Law Assignment in correct format
While writing the business law assignment, students should be careful to be writing in the correct format. For example, the question may ask for the assignment to be written in PEEL Paragraph style, IRAC style, memo style or essay style amongst others. In case, out of negligence or in a hurry, the student writes assignment in a different format than prescribed, such misadventure would result in the student losing marks despite doing all the hard work and such misadventures must be avoided at all costs.
Proof Reading and Formatting the Business Law Assignment
It is the last, yet most important part of business law assignment writing as this is where the students get to rectify their errors and ensure that the answer is in correct format. It is extremely important that all the primary and secondary resources which have been relied upon in course of assignment must be acknowledged properly and in the correct citation format as provided by the faculty.
We have compiled all the steps and also shared tips to successfully acing a business law assignment successfully. However, despite all the guidance being available writing a great business law assignment is a formidable challenge and students often find themselves out of depth to deal with serious topics related to Business Law Assignment. Assignment Help Australia team of Great Assignment Helper holds the distinction of most number of Business Law Assignments having scored distinction marks in Australia and the students should definitely take advantage of superior assignments at lowest ever rates.