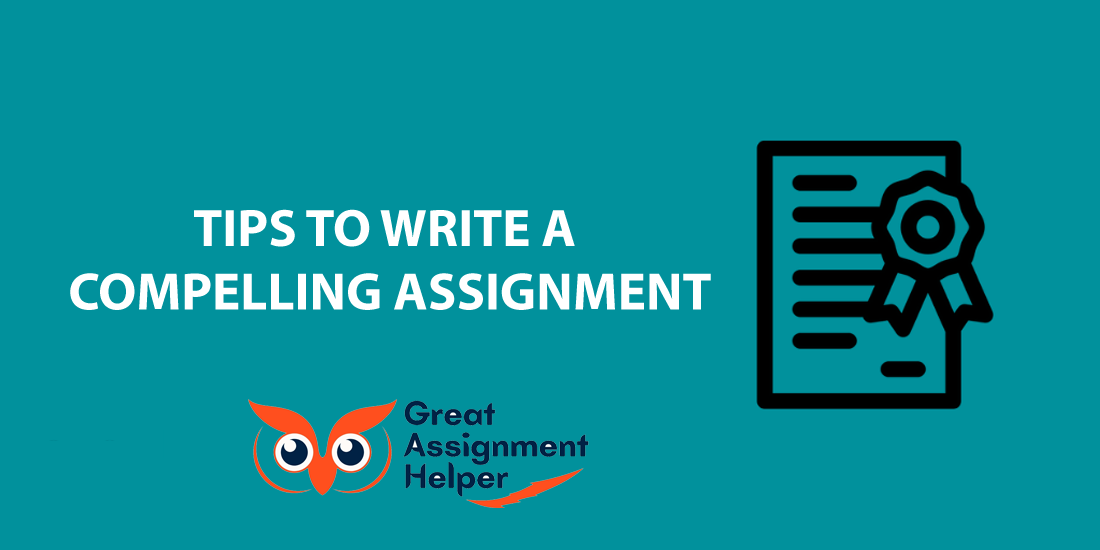 Tips to Write a Compelling Assignment
Assignments may be a living nightmare for many students, as anyone who has attended an educational institution can attest. A student is constantly pressured by time constraints, tight criteria, and difficult instructions, among other things. A major amount of the various sorts of assignments is allocated to written tasks. The majority of students are required to write essays or reports for exams and homework, yet creating a competent academic English paper is one of the most difficult tasks they face each term. This is the reason why many of them opt online assignment services.
If you're reading this, you've probably dealt with some of these issues. Are we correct? Furthermore, you should be aware that university writing differs significantly from that of high schools. As you progress through your education, the situations become more sophisticated, and the assignments become more difficult and so does the expertise of the assignment helper writing it professionally. The dread of the unknown is the main reason why most students find assignments difficult. If you give your brain unpleasant feelings about college tasks, the assignment paper will reflect those feelings. You must believe in yourself in order to produce a decent assignment, and you must read this post to acquire useful suggestions on how to write a good assignment quickly.
The Academic World's Assignment Writing Guide
Have you decided to pursue a career in academia? '7 lies the academic world keeps telling you,' according to LinkedIn.com. It is unquestionably true that you will be required to write a great deal in order to meet the specific requirements. Every student is required to write a variety of essays, reports, case studies, reviews, and other projects. Otherwise, your odds of graduating from university are slim.
In general, writing tasks can be separated into three stages that have a significant impact on your grades:
Making preparations for a task;

Accomplishing the assignment in its entirety;

I'm working on an assignment.
The majority of students fail because they jump right into writing the project without doing any preliminary research. In the academic environment, this is almost always a formula for failure. You didn't expect such poor results, did you? Then, at each level of the writing process, consider the following suggestions.
#1 Pre-Writing Suggestions
Writing tasks should be treated with the utmost care and seriousness. And if you know how to write an assignment on a topic, you can do anything – including composing an essay at the last minute. First and foremost, you should prepare yourself for the assignment by doing the following:
Make use of your time management abilities just like a professional assignment helper. The first thing you should do is schedule the time you'll need to complete your assignment. This period should be devoid of any other activity, such as talking on the phone, eating, or doing anything else you enjoy. Games, TV shows, and social media sites are just a few examples of potential diversions.
If you put off doing the task until the last minute and then spend that time viewing a YouTube channel, your odds of delivering high-quality work are slim. You'll be more concerned with meeting the deadline than with producing a quality project. Our professional approach of providing online assignment service will help you plan your time.
Examine the question posed in the assignment. Before you begin writing, you must first comprehend the question you must answer. You can only create an excellent essay when you have a thorough comprehension of the issue question. Read the topic of the assignment word for word. If you don't know the meaning of a word, look it up in the Oxford Dictionary or any other definition dictionary you choose.
Even natural English speakers, not to mention overseas students who have only recently begun learning English, can benefit from this kind of clarification. If you can't figure it out on your own, ask your pals or an assignment help website for help. Assume you're assigned the task of writing a critical review of a scholarly work. Limiting terms like 'examine the extent of the topic,' 'assess the merits of the text,' 'judge the arguments,' and so on should be avoided. Pay close attention to anything that adds to the assignment's specificity.
Recognize how grades are assigned. The majority of students do not read the guide to see how they will be graded when writing an essay or a research project.
The essay evaluation checklist is used by good students to figure out what the examiner is searching for while grading the work. This allows pupils to concentrate on the areas that will earn them the most points. Examine the normal essay assessment template and work on the areas of your essays that are lacking.
Look for information that is trustworthy, you may refer to websites providing assignment help service online . Start looking for information that can help you with your assignment when you've grasped the topic and how grades are assigned. You can find reliable information in books or on the Internet. Do you prefer to do everything online? You don't have time to go to the university library? Great! If you follow the steps below, you should be able to discover some solid information.
Make a rough outline. Even a rudimentary plan of your assignment will teach you how to organise it logically. This framework ensures that you stay on track and don't stray from the topic. Look for a suitable outline sample if you don't know how to build an outline for your assignments. In fact, for a quick effect, you can utilise any sticky notes you have on hand or draw diagrams. To find out what will work best for you, read five research on visual information processing.
#2 Writing Suggestions
If you are well-prepared for your task, you will find that writing it is far easier than you might expect. The following are a few pointers on how to compose an excellent assignment.
Introduction. This is the first paragraph of your work, and it tells the examiner if you know what you're doing or whether you're just scraping by at a college or university. You must understand what information assists you in writing an effective beginning. First and foremost, you must discuss the topic's historical context. Citations or quotations from reliable authors should be used to back up your claims.
Write down and explain the topic question in your own words to show the examiner that you understand it. However, you should avoid repeating the question word for word (a mistake made by most students). Second, you must state your position on the subject. Whether you are in favour of it or against it. Later throughout the assignment, you will not be able to change your mind about the position you took in the introduction. Finally, in the last sentence, build a thesis statement. The most crucial sentence in the assignment is this one. If you make a mistake in your thesis statement, you risk failing the assignment. If you wish to take zero risk you may take help from the great assignment helper.
The majority of the text. The primary component of your assignment should answer the topic question in detail, citing proof as needed.
There is no restriction to how many paragraphs should be included in the main body. All of the paragraphs, however, share the same structure. That is, they should begin with a topic phrase, then present evidence to support the notion, and finally connect the idea to the thesis statement. This pattern applies to all of the main section's paragraphs.
Conclusion. This section is where you summarise everything you've said so far in your essay based on the evidence you've presented. In conclusion, no new ideas should be provided. You should, however, draw attention to regions that require greater investigation in the future.
#3 Post-Writing Recommendations
You should edit and proofread your assignment regardless of whether you are a natural English speaker or not. To refine your writing, follow these steps:
Look over the entire document. Make sure you've answered the topic question as instructed by your tutor while proofreading your work. Examine the evaluation schedule once more. If something doesn't add up, don't be afraid to provide a little more information.
Make sure there are no grammatical or spelling mistakes. You may also take our online assignment help service for it. Going over your document again offers you the opportunity to catch any stupid grammar or spelling issues.
Make sure the citations are correct. Have you cite any sources in your paper? Check to see if you followed the APA, MLA, or Harvard citation requirements when citing your sources. Your grade will be deducted if you make a mistake with your citation. Furthermore, you may be charged with plagiarism. Don't think you'll get to see it? You can avoid all problems by thoroughly proofreading your work.
Nothing can stop you from receiving good grades now that you have all of the useful advice on how to create an assignment. It is worthwhile to devote sufficient time to all stages of the writing process: pre-writing, writing, and editing. Best of luck!