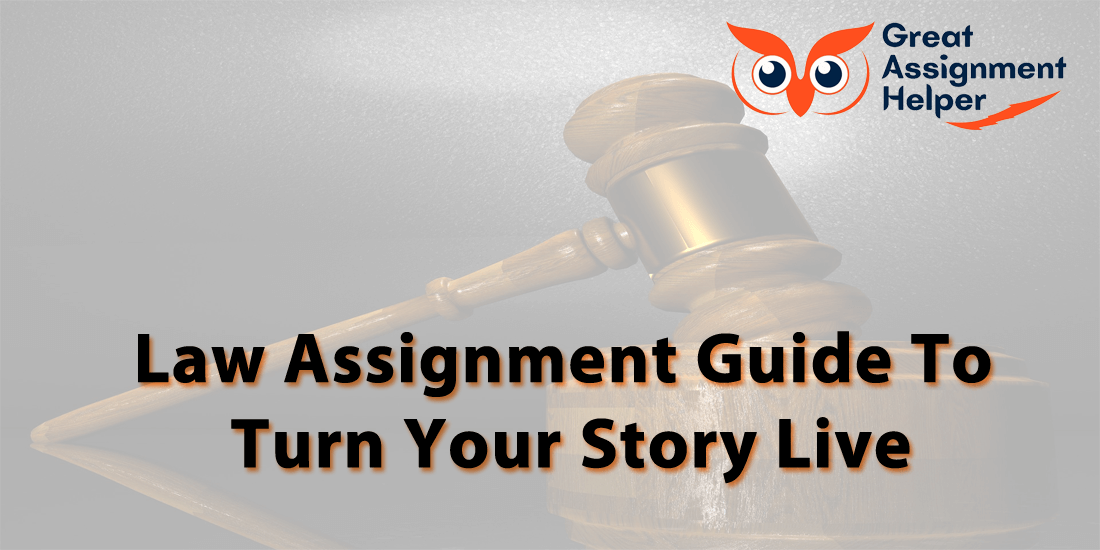 Law Assignment Guide To Turn Your Story Live
Law is a complicated subject, and most students feel a lot of stress because there is so much information to learn. For this subject, you need to know a lot about it and be able to judge each case and its subtle dynamics. At the beginning of the course, it's hard to find the right way to look at a situation and figure out what it means. Every student wants to get the best grade possible, but that's not always possible. To improve their grades, students turn to Online Law Assignment Help.
How To Write An Online Law Assignment?
Before you begin, you may focus on the following components of law assignment writing:
Pick a topic

Research

Brainstorm

Begin Writing

Uniqueness

Mention The Sources

Proofread
Pick a Topic
This is the first step of any assignment, and it's important because if you pick the wrong topic, you could fail. We suggest that you choose a topic that you either know a lot about or are really interested in.
Read the chosen topic over and over again until you fully understand it. Find the important information, such as the minimum number of words, the rules about plagiarism, and the deadline. Think about what they want you to do with your law assignment.
Research
Authentic sources such as law school textbooks, articles, journals, as well as Google Scholar and One search are highly recommended for your research. It is recommended that you include case studies and laws in your assignment.
Brainstorm
After choosing a topic and doing research, the next step is to "plan." Write down your arguments so you can use them in your essay. You can get help from tools you can find on the Internet.
Begin Writing
You must know "what to write" and "how to write" in order to do this step. Experts say that you should always write about legal studies in the active voice when you write an essay. Your assignment must have clear arguments that make sense. Make sure that people who aren't law students can understand your idea, and don't use abbreviations. We want you to include a thesis in your business law assignment, as well as legal principles, legal precedents, and sources that are relevant to the topic. Show how legal precedents are important to your point of view.
Uniqueness
It is one of the biggest worries of college students. If a student is caught plagiarising the content, they could be kicked out of school or get bad grades. So, being different should be your top priority. You can check to see if your law assignment is original, or you can get help from people who are good at writing law assignments.
Mention the References
It is polite to give credit to someone else for their work. It's also wrong to copy or use someone else's research in your assignment without giving credit to the source.
Proofread
The last thing to do before turning in an assignment is to check it for mistakes. The goal is to keep people from making stupid mistakes that could have gotten them a lower grade. Look for spelling and grammar mistakes and try to fix them as much as possible.
Database Tools Recommended By Law Assignment Writing Experts
Experts recommend that students use the following database to find information.
OneSearch –Students should use OneSearch because it gives them access to a lot of print databases, the catalogue, and UWA research and thesis. It also gives you the option to export the data.
EndNote– It lets you put together a bibliography and format citations in the way that is expected at your university.
Informit: Information Services Resources is the name of the site, and its goal is to help students find Australian articles and magazines. It gives you access to CINCH (Australian Criminology Database) and AGIS (Australian Law and Order Policy Database). You can also use EBSCO, Press Display, Factiva, and Pro Quest. You can also count the experts of Australian Law Assignment Help
Which Topics Are Covered In Online Best Law Homework Help?
Law is about a lot of different things. The online help with law homework can help you with almost any topic. It would be hard to list all of the different kinds of assignments that are available, but here are some of the most common ones that are also "in style" to give you an idea of how good our work is:
Civil Law
The civil laws are more concerned with the "Rights of the Citizen" of a country. Most of these laws don't make it a crime to break them, and most of them deal with the legal process for any crime. It's about crime and the money the criminal who is being prosecuted pays as a reward. The articles written about Civil Law are meant to attract readers and give them information about the subject.
Common Laws
The court and other tribunals decide what the common law is based on what has happened in the past. The court figures out what to do by looking at what other courts have done in the past. But if the case is unique, the judge's decision is the last word.
Hybrid System
The hybrid system is made up of two different systems that work together. A voting system is one of the subsets. The system is dynamic because it has some and a number of variables. It gives people a lot more freedom than religious laws do.
Religious Law
Most of these laws are based on what the majority of people who practise a certain religion think. It usually has a code of conduct and moral and ethical standards to follow. These laws don't change over time. On the other hand, lawmakers can change laws that have nothing to do with religion.
Pluralistic System
This system is a mix of at least three different sets of laws. It is used in places where different kinds of people live. The United States of America is a great example of this because it has both a federal law system and state laws that work together.
Legal Segment of the assignments
Criminal Law
Criminal law is the part of the law that deals with crimes. Ordinances are what make the laws work. It's hard to understand, so assignment help makes sure to help you with all of the problems.
Global Law
More than one country agrees with these laws and has made them their own. The main goal of these laws is to keep good relationships with other countries. Trade treaties are a good example, and the UN has a common framework for all of its member countries.
Administrative and Constitutional Laws
Laws like these are made to run the institutions in a country. This isn't clear and is often misunderstood, so our law assignment help will show you how to avoid it.
Assignment Help Services
Company Law Assignment Help
Company law is made up of the rules, regulations, and instructions that a business uses to register, run, and keep track of itself. To learn about law, you have to do a lot of reading and practise. Law assignments are very hard and give students a lot to think about. Students don't have time to do all of these, though, because they have other things to do. You can't get out of the project, though, because it's important to your grades. We can help you get better grades and learn more about the law through our company law assignment help.
Contract Law Assignment Help
A contract is an agreement between two parties that allows them to trade and exchange valuables. Contract law says how both verbal and written contracts should be run and how they should be understood. To write a good Contract Law Essay Assignment, a student should first learn about contracts and how they work. There are many different kinds of contracts, and students may need help with assignments for any of them. Contract law students are given homework and expositions to test how much they know and how well they can write. So, if your assignment is about contract law, you should contact our Contract Law Assignment Help. We have an expert team of professionals who can give you the best contract law cases and answers to improve your grades and assignment scores.
Taxation Law Assignment Help
Laws about taxation are the rules and laws that make sure the tax process is done legally. Estate, transaction, property, compensation, and licence law are all governed by tax law. We can help you with your taxation law homework, which includes sections on paying a minimum amount of tax directly or indirectly to the government. Our highly qualified experts could help you with your taxation law homework so you could learn more about tax law.
Competition and Consumer Law Assignment help
Are you having trouble with your essay on competition and consumer law? They will help you with your competition and consumer law homework, and we'll get your Competition thesis done quickly and easily. Competition and consumer law is one of the more difficult subjects to study in school. If you get help from our Competition and Consumer law assignment experts, your professor will give you great grades. Also, your assignment will be done well before the deadline!
Commercial Law Assignment Help
The legal assignment help are known for helping with business law assignments in a way that is both affordable and of high quality. Business law is mostly about the rules and laws that govern contracts, agreements, international and national laws, and business transactions. For the most important parts of a business law assignment, you need to know a lot about the subject.
Getting help from our experts in business law will help you get good grades in your classes. Business law is mostly about the rules and laws that are put into place by international agreements, domestic laws, and business contracts. For business law assignments, you need to know a lot about the subject. Our writers will help students with business law in the best way possible, and you will do well in your classes.
Dissertation Writing Help
Online dissertation writing help services have grown a lot because most college students are busy with online classes and court dates. College students find it hard to write a good dissertation that will help them get good grades on their semester exams. Writing a dissertation isn't easy, and since the law is the main topic, you'll need to do a lot of research and be familiar with all the legal terms.
Even a small mistake can ruin your whole work, so you can't make any mistakes. When everything goes wrong, students sometimes look for help online, so we help them out by giving online dissertation writing help. We can help you with writing your dissertation online so you can get good grades.
Why choose assignment writing help?
The Legal Assignment Help makes sure that you get your assignment on time, so you don't miss your deadline and can turn it in early. We also prefer to give you complete papers "in time" rather than "on time."

Where everyone is connected, they help you 24 hours a day, 7 days a week. You can get in touch with our experts directly through email or live chat and use their services at any time.

They have more than 400 experts with PhDs or LLMs who can write and review model papers very well.

They can help you write about any part of the law with the help of experts. So, it doesn't matter if you need help writing your term papers or if you need help finishing your final thesis for your PhD.

All of the model papers are created from scratch. After you finish your paper, go through multiple rounds of reviews and plagiarism checks by using some of the best software to find plagiarism and making sure that the percentage of plagiarism is very low.

They give you the best services because they have a team of experts who work for you around the clock. You get all of these services at prices that are fair and easy on your wallet.