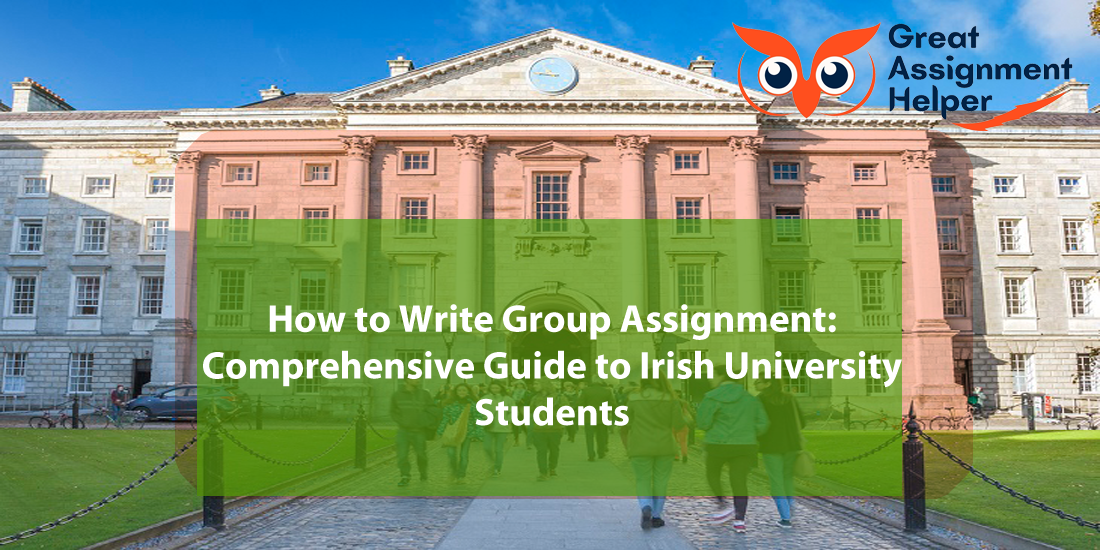 How to Write Group Assignment: Comprehensive Guide to Irish University Students
If you go to college or university in Ireland, you have to write group essays or do other things. In many Irish colleges and universities, students are asked to work together as part of a group on assignments. Writing group essays means that any one student has to work with other students to write essays for tests. The goal of writing group essays is to get students to work together as part of a group. Using co-authorship in group work also helps people think more collaboratively.
Tips to follow while writing Group Assignments
In collaborative essay writing or research paper writing, everyone in the group has to help write it. Participation is usually equal, which means that everyone in the group helps with the writing together. Sometimes, the people in the group don't all do the same thing. People who write in groups should get credit for their work. The steps that are used to write a group assignment are as follows:
Before you start writing, you go through this process.There are many ways that people can brainstorm in this step. They can talk about ideas, make arguments, and write down a thesis. As part of collaborative assignment writing, group members can think about what they're working on and how they'll finish it. They can also think about how the product will be used and who it will be for.
Planned and organised operations
You need to do this before you start writing group projects. In the group writing process, the people who are writing have to figure out what their roles are in the group. They need to be very clear about what they are supposed to do. Participants need to talk about the final product, and they need to set up meetings to do so. The people who write group assignments need to talk about how often they meet. They also need to talk about when and where they meet. At this point in group assignment writing, the participants need to know when the final product must be turned in. They also need to know when the deadlines for submitting draughts for the final product are.
Gathering and analysing of information
As part of writing assignments, it is very important to do research and also get data, so do both. There are a lot of places assignment writers can look for information about their research project. Books, newspapers, journals, and websites are all good places to start. Writers who are part of a group need to talk to each other to figure out who should read and process the information they find during research. It is also important for the writers to think critically about the different sources of information that they use in their group assignment writing. Most of all, the group assignment writers need to look at the data they find while doing research.
Each member of the group has a different job when it comes to writing content for group projects. There are a lot of times when the people in the group work together. Here, it's important to say that each member of the group has a unique writing style. When writing a group assignment write-up, though, it is important to make sure that the sentences in it all make sense.
editing, rewriting, and rechecking for accuracy
In group writing, this is very important. In this part, all of the different write-ups have to be combined to make a single one. Afterwards, care should be taken to make sure that all the writing in the write-up is the same. The document needs to be checked over thoroughly and any spelling or grammar mistakes should be fixed. To make sure that the group assignment write-up is in a logical order, care must be taken. There are many things to look for when proofreading a piece of writing, such as grammar and spelling mistakes.
Online assignment help
Well-researched assignments help students get better grades, but they also have the chance to learn more about what they're studying. As a result, they learn more and improve their writing skills and abilities, too. It is very important for students who don't understand their basic concepts well and can't do their assignments to get help with them on the internet.There are a lot of assignment help Ireland websites that help students from different universities in Ireland finish their assignments and get good grades. These websites have a lot of people who can help you with your homework. These Irish assignment experts do your assignments have a lot of experience in the field you study, so the assignments they do will be correct and get you good grades.One of the best homework help Ireland website is http://greatassignmenthelper.com . Great assignment helper has more than 700+ Active Writers . They have a huge and wide range of experienced and active Irish assignment experts who can help the students.
Why should Irish students choose the best homework help Ireland ?
In the last few years, homework assignments have become more difficult for the students to do. These tasks often require a lot of knowledge about the subjects. Research and analysis for the homework assignment can take a long time. In this day and age, when most Irish students are involved in a lot of extracurricular activities for their all-round development and growth, it can be hard to find time for academics sometimes. In this case, it is good to get help from assignment helpers in Ireland. As more and more of our lives go online, it's not surprising that students turn to the best homework help Ireland websites to get their homework done.
Assignment help Ireland services by a great assignment helper are for students who live in Ireland and need help with their work. It helps students with all kinds of problems they have when they try to do their assignment well. Ireland universities often give their students different types of assignments so they can show that they have learned about a certain subject or class. A great assignment helper has come up with a way for students to get help right away with their assignments from their professors. This is because direct interaction with professors can be uncomfortable for some students.
Benefits of Ireland homework help websites
There are several benefits for students when they seek ireland homework help website by great assignment helper are as follows :
Keep track of time to meet deadlines
It would hurt a student's grade if they didn't do their homework on time. At times, this can be difficult because there are so many homework assignments that students have to do for each of their classes. Many students also have after-school activities that leave them with less time to do their homework. In order to finish the assignment in the time frame that was set, the online assignment help website is very useful. This helps the students meet their homework deadlines.
Many times, students don't know how to come up with homework answers that are both well-written and accurate. This could be because they didn't understand a subject well enough or because they didn't go to class on a certain subject. It takes a lot of research and analysis by experts who know the subject well to come up with the best homework answers from the online homework help website.
There are times when students don't do their homework right, which hurts their grades. Every student wants to do well at school. It helps students get better grades on their homework when professionals do it. The homework assignments they do are well-researched, skillfully written, and grammatically correct.
Assignment help from a team of experts
In some cases, you have to know a lot of things about a certain subject or how to use certain tools and software to do your homework well. Many times, students might not be able to do their own homework. It has a lot of experts who know a lot about a lot of different subjects and how to use a lot of different software programmes and how to show data in a way that makes sense.
Work that is free of plagiarism
Students who copy someone else's work in school or college are punished very harshly by these institutions all over the world. When you use an online homework help service, they make sure that your assignments are plagiarism-free and that they follow scholarly guidelines for citations and citations.
Help is available all the time.
When it comes to their homework, many students don't have time to finish their work until the last minute. A team of experts who work for this online Ireland homework help site are available to help students with their assignments at any time of the day or night. This gives the students the option of scheduling their study time as they see fit. Some of the students can get help right away. They don't have to wait hours for their school or college to open so they can talk to the teachers who teach them.
In the above article various ways to help the Irish students to do their group assignment have been explained properly .However it's not always possible to do the assignment by themselves due to various reasons. So various assignment helpers in Ireland are available through various websites which include great assignment helpers who are always available to do your assignments. The above tips to do group assignments will help you to get good grades from your assignments.