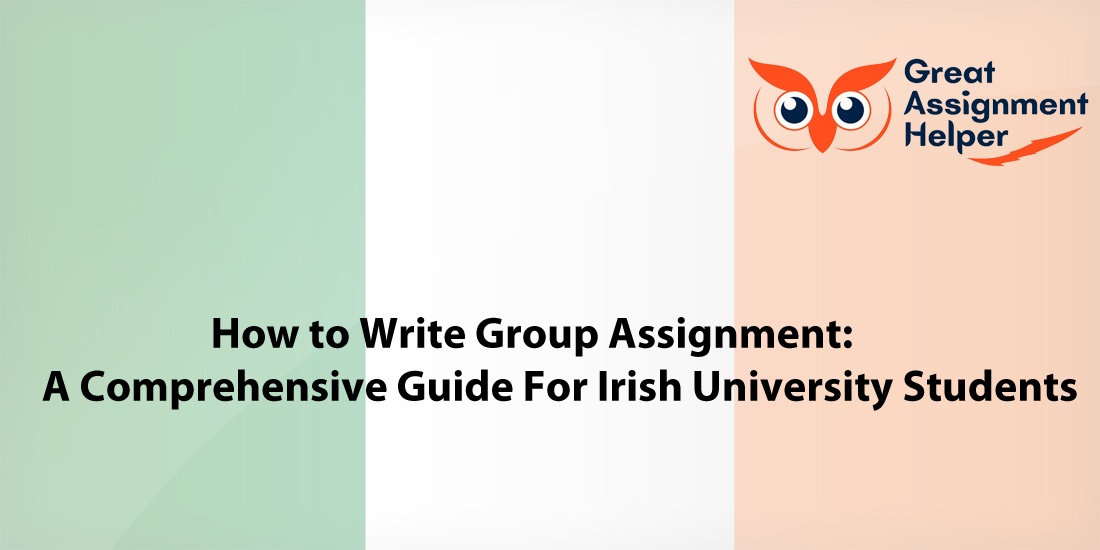 How to Write Group Assignment: A Comprehensive Guide For Irish University Students
How to Write Group Assignment: A Comprehensive Guide For Irish University Students
A student's college or university curriculum in Ireland includes group essays or assignments. Students are frequently expected to work collaboratively as part of a group to complete tasks in Irish colleges and universities.
Writing group essays necessitates a student's collaboration with other students in order to prepare essays for assessment. The goal of group essays is to encourage students to collaborate as a group. Co-authorship in group work also improves collaborative thinking.
This is a blog on the several procedures that go into writing group assignment help. The site also contains advice on effective group writing tactics.
The steps involved in writing a group assignment
Members of a group must participate in collaborative essay or research paper writing. Participation is frequently equal, meaning that all group members participate equally in the collaborative writing process.
The level of participation of the various members of the group may change at times. It's crucial to offer credit to group members who actively participated in writing assignments while accessing group assignments.
This section of the blog discusses the many steps involved in writing a group project or a collaborative assignment. We have many Irish assignment experts who may help you out with your assignments, if need be.
Preparation for writing
Different group members can participate in brainstorming, share ideas, create arguments, and draft a thesis during this process.
During this stage of collaborative assignment writing, group members can think about the assignment they're working on, as well as the end output, trying to grasp its purpose and deciding on the ideal audience for the product.
Planning and logistics
When it comes to group writing projects, this is one of the most critical steps. The function of the contributors in group writing must be decided by the participants in the group writing process.
They must have a thorough understanding of the duties they are responsible for. The participants must discuss the final output and must schedule meetings for this purpose.
Participants in group assignment writing must address not only the frequency of meetings, but also the time and location of meetings. The participants need to know the deadlines for submitting the final product at this stage of group assignment writing. If you are not able to figure these things out on your own you may go for our Ireland assignment help.
They also need to be aware of the timeframes for submitting draughts for the finished project.
Collecting information and conducting research
It is critical to conduct research and collect data when writing tasks. For facts relevant to the research activity, the assignment writers must consult sources such as books, newspapers, journals, and websites. Take the best homework help in Ireland to get this thing done.
The group's writers should confer to determine who should be in charge of reading and processing the information discovered during research.
It's also crucial for the writers to think critically about the numerous reference sources used in the group assignment writing. The authors engaging in group assignment writing must, above all, analyse the data gathered during research.
Drafting or writing
When it comes to generating content for group assignments, the various members of the group have varied duties. The members of the group frequently get together to collaborate. If still facing problems ask your group to consider taking our Ireland homework help.
In this regard, it's worth noting that each group member has his or her own writing style. However, extreme caution must be exercised in ensuring that the sentences that make up the group assignment write-up are clear and without ambiguity.
Proofreading, editing, and revising
When it comes to group writing, this phase is crucial. The different write-ups must be integrated to make a single document in this section. The next step is to ensure that the writing flow is consistent throughout the article.
The work must be thoroughly revised, and any spelling or grammar issues must be corrected.
It is critical to ensure that the evidence supplied in the group assignment report is presented in a logical order.
When it comes to proofreading, the text should be thoroughly examined for grammar and spelling problems. You may go for online assignment help to ensure that your assignment is error free.
Group writing tactics that work
Certain beneficial ideas for group assignment writing are described in this area of the site.
It is critical to maintain a positive mindset.
Although group assignment writing might be a difficult undertaking, the members must be excited about contributing to group work.
It is critical to respect fellow members, talk, and participate while participating in group activities. Online assignment help services may help you to coordinate better by lessening your burden.
There should be sufficient time to revise.
If the group assignment has a deadline, you as participants must make sure that the writing portion is completed as soon as feasible and that there is enough time for rewriting or proofreading.
A proper scheduling technique
Organise meetings to discuss the drafting of group assignments. When it comes to meeting scheduling, there should be suitable strategies in place.
The most efficient and proper method of file sharing
Participants in group assignment writing must use proper file-sharing technologies such as Dropbox, email attachments, and Google Docs.
Separate the proofreading and revising tasks.
Separate duties for revising and proofreading must be completed. If necessary, these tasks should be delegated to different members of the group. You may take help of assignment helpers in Ireland to get your revisions done.
Purchase low-cost assignment assistance from Ireland's top writers.
You can seek assignment help in Ireland if you are a student seeking higher education in Ireland's colleges or universities. There are reputable assignment writing services, such as Ireland Assignment Help, where you may hire writers to complete your tasks for a fee.
Top assignment writing services' competent and experienced authors are renowned to write my assignment, write my essay for me, and assist me with an online exam.
If you want to get your assessments completed online or learn about different assignment writing ideas for group essays, as well as examples of how to write a group essay, go to Ireland Assignment Help's website and speak with one of their experienced writers.
General Strategies:
If the lecturer has a group assessment help exercise built into the assignment sequence, group members can address the issue of an apathetic free rider. As a result of these activities, group members will be able to alert the professor about the apathetic free rider in their group.

Without consulting the professor, group members might confront an apathetic free rider by conducting an intervention in which they inform the free rider that such non-productive behaviour is not accepted in the group.

Suggestive questions can provide up a space for the self-occupied free rider to express his or her thoughts. Show that you recognise the silent member's contributions by encouraging him or her.

Discuss a contentious statement or subject and come up with as many different opinions as you can, even if they're ridiculous. This fosters a nonjudgmental environment in which members can suggest ideas and feels more at ease engaging in discussions. As a follow-up activity, each student should choose a group member's reaction to the controversial remark and orally or in writing verify it to themselves or a partner. Instead of all such efforts you may simply go for an assignment help Ireland online.